2011
07.19
I didn't post anything for long because I was busy on making my first iPhone app. But it didn't go smoothly due to the lack of time and resources. Then I started taking care of my son on my own from June so I only have one or two hours spare time a day after my son sleep. Since the time is too short for working on engine, I decided to try the script system of LynxEngine. The script system is actually done for a while but I haven't had chance to use it for making anything. I was using Lua as the script language and I thought that I can use it to write some simple games.
The first game I tried to make is a scrolling game, the background sprites are 2D and the character is 3D. Below is the video clip of this simple scrolling game and I used Lua script to create the whole game including the menus.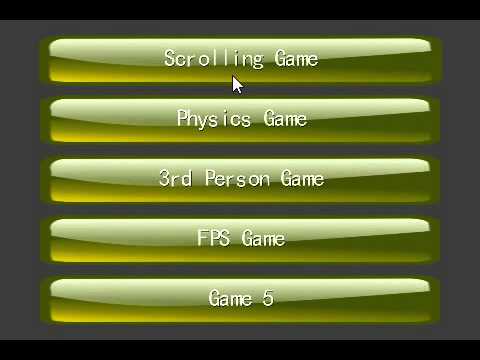 After finishing this simple game, I had a chance to look at Mono project and found it may be used as a better script system than current Lua based system. So I spent few days to collect related information online and finally got it done. Basically, I should be able to use any .NET language as the scripting language like C#, VB or Java but C# is the only managed language I am familiar with so I choose to use C#. The result is good, I can use C# to create the same game as I created by Lua and the OO nature of C# makes programming much easier and the code is also more readable.
Currently, both Lua and Mono coexist in LynxEngine but in the long term, I think I will move to Mono since it provides much better flexibility than Lua. I listed both C# and Lua script below and you can compare these two codes, I believe that most of you should like C# code more
As you can see from the video clip, there are few type of games I want to make using script. After I finish these type of games, I will put the executable file and script files here for downloading. Hopefully it wouldn't take too long.
C# Script
1
2
3
4
5
6
7
8
9
10
11
12
13
14
15
16
17
18
19
20
21
22
23
24
25
26
27
28
29
30
31
32
33
34
35
36
37
38
39
40
41
42
43
44
45
46
47
48
49
50
51
52
53
54
55
56
57
58
59
60
61
62
63
64
65
66
67
68
69
70
71
72
73
74
75
76
77
78
79
80
81
82
83
84
85
86
87
88
89
90
91
92
93
94
95
96
97
98
99
100
101
102
103
104
105
106
107
108
109
110
111
112
113
114
115
116
117
118
119
120
121
122
123
124
125
126
127
128
129
130
131
132
133
134
135
136
137
138
139
140
141
142
143
144
145
146
147
148
149
150
151
152
153
154
155
156
157
158
159
160
161
162
163
164
165
166
167
168
169
170
171
172
173
174
175
176
177
178
179
180
181
182
183
184
185
186
187
188
189
190
191
192
193
194
195
196
197
198
199
200
201
202
203
204
205
206
207
208
209
210
211
212
213
214
215
216
217
218
219
220
221
222
223
224
225
226
227
228
229
230
231
232
233
234
235
236
237
238
239
240
241
242
243
244
245
246
247
248
249
250
251
252
253
254
255
256
257
258
259
260
261
262
263
264
265
266
267
268
269
270
271
272
273
274
275
276
277
278
279
280
281
282
283
284
285
286
287
288
289
290
291


using

 

System

;




using

 

System.Runtime.CompilerServices

;




using

 

System.Runtime.InteropServices

;




using

 

System.Collections.Generic

;




using

 

System.Diagnostics

;




using

 

LynxEngine

;




//----------------------------------------------




//  說明:   




//----------------------------------------------




public

 

class

 CBGLayer


{


    

public

 

float

 ObjectWidth, ObjectHeight

;


    

public

 

uint

 ObjectInterval

;


    

public

 

float

 PosY

;


    

public

 

uint

 NumObjects

;


    

public

 

float

 ScrollingSpeed

;


    

public

 CDynamicObj

[

]

 Objects 

=

 

null

;


    

public

 

float

[

]

 Pos 

=

 

null

;


 
    

public

 CBGLayer

(

)

            
    

{


    

}


 
    

public

 

void

 CreateObjects

(


        CScene scene, 
        

int

 n, 
        

String

 name, 
        

String

 filename, 
        CRenderableObj

.

DEPTHLAYERTYPE

 dl

)


    

{


        Objects 

=

 

new

 CDynamicObj

[

n

]

;


        Pos 

=

 

new

 

float

[

n

]

;


        

for

 

(

uint

 i

=

0

;

 i 

&

lt

;

 Objects

.

GetLength

(

0

)

;

 i

++

)


        

{


            Objects

[

i

]

 

=

 scene

.

CreateDynamicEntity

(

)

;


            Objects

[

i

]

.

CreateSprite

(

name, filename, ObjectWidth, ObjectHeight

)

;


            Objects

[

i

]

.

UpdateTransform

(

)

;


            Objects

[

i

]

.

SetDepthLayer

(

dl

)

;


            scene

.

AddDynamicObj

(

Objects

[

i

]

)

;


        

}


    

}




}




//----------------------------------------------




//  說明:   




//----------------------------------------------




class

 CPlayer 

:

 CDynamicObj


{


    

public

 

enum

 STATE
    

{


        RUN 

=

 

0

,
        JUMP,
        ATTACK1
    

}

;


 
    

public

 

class

 CState        
    

{


        

public

 CSound Sound 

=

 

null

;


        

public

 CAnimation Animation 

=

 

null

;


    

}


 
    

public

 STATE State

;


    

public

 CState 

[

]

 States 

=

 

null

;


 
    

public

 CPlayer

(

IntPtr ptr

)


        

:

 

base

(

ptr

)


    

{


    

}


 
    

public

 

void

 SetState

(

STATE state

)


    

{


        States

[

(

uint

)

State

]

.

Sound

.

Stop

(

)

;


 
        SetCurrentAnimation

(

States

[

(

uint

)

state

]

.

Animation

)

;


        States

[

(

uint

)

state

]

.

Sound

.

Play

(

)

;


        State 

=

 state

;


    

}




}




//----------------------------------------------




//  說明:   




//----------------------------------------------




public

 

class

 CScrollingGamePage 

:

 CUIPage


{


    

const

 

int

 SCROLLING_GAME 

=

 

0

;


    

const

 

int

 PHYSICS_GAME 

=

 

1

;


    

const

 

int

 THIRDPERSON_GAME 

=

 

2

;


    

const

 

int

 FPS_GAME 

=

 

3

;


    

const

 

int

 GAME5 

=

 

4

;


    

const

 

int

 GAME6 

=

 

5

;


 
    

bool

 GameConsoleIsRunning 

=

 

false

;


    CBGLayer

[

]

 BGLayers 

=

 

new

 CBGLayer

[

4

]

;


    CPlayer Player

;


    CSound BGM

;


    CVector2 

[

]

 BackgroundUV 

=

 

new

 CVector2 

[

2

]

;


    CScene Scene

;


 
    

new

 

public

 

void

 OnCreate

(

)


    

{


        Scene 

=

 GlobalVar

.

SceneSystem

.

AddScene

(

)

;


        Scene

.

SetName

(

"Scrolling Game Scene"

)

 

;


 
        CCamera Camera 

=

 Scene

.

CreateCamera

(

)

;


        Camera

.

Create

(

)

;


        Scene

.

SetCurrentCamera

(

Camera

)

;


        CCameraContainer CameraContainer 

=

 

(

CCameraContainer

)

Camera

.

GetContainer

(

)

;


 
        CVector3 CameraPos 

=

 

new

 CVector3

(

10

, 

10

, 

-

35

)

;


        CameraContainer

.

SetPosition

(

CameraPos

)

;


        CVector3 CameraLookPos 

=

 

new

 CVector3

(

10

, 

10

, 

0

)

;


        CameraContainer

.

LookAt

(

CameraLookPos

)

;


        CameraContainer

.

UpdateProjectionMatrix

(


            

(

float

)

(

GlobalVar

.

GraphicsSystem

.

GetBackbufferWidth

(

)

)

 

/

 
            

(

float

)

(

GlobalVar

.

GraphicsSystem

.

GetBackbufferHeight

(

)

)

)

;


        CameraContainer

.

UpdateViewMatrix

(

)

;


 
        Scene

.

LoadBackgroundTexture

(

"../texture/scene/map00/background0.tga"

)

;


        BackgroundUV

[

0

]

 

=

 

new

 CVector2

(

)

;


        BackgroundUV

[

1

]

 

=

 

new

 CVector2

(

)

;


        BackgroundUV

[

0

]

.

x

 

=

 0

.

0f

;

   
        BackgroundUV

[

0

]

.

y

 

=

 0

.

0f

;


        BackgroundUV

[

1

]

.

x

 

=

 

-

0

.

5f

;

  
        BackgroundUV

[

1

]

.

y

 

=

  0

.

0f

;


        Scene

.

SetBackgroundTextureUVOffset

(


            BackgroundUV

[

0

]

.

x

, BackgroundUV

[

0

]

.

y

, 
            BackgroundUV

[

1

]

.

x

, BackgroundUV

[

1

]

.

y

)

;


 
        Player 

=

 

new

 CPlayer

(

Scene

.

CreateDynamicEntity

(

)

.

GetPtr

(

)

)

;

                        
        Player

.

CreateModel

(

"Player"

, 

"../model/dynobj/boy/boy.mdl"

)

;

             
 
        Player

.

SetDepthLayer

(

CRenderableObj

.

DEPTHLAYERTYPE

.

DEPTH_LAYER_3

)

;


        Player

.

Yaw

(

-

90

.

0f, MATHORDER

.

LYNX_MATH_POST

)

;


        Scene

.

AddDynamicObj

(

(

CDynamicObj

)

Player

)

;

            
 
        Player

.

States

 

=

 

new

 CPlayer

.

CState

[

3

]

;


        Player

.

States

[

(

uint

)

CPlayer

.

STATE

.

RUN

]

 

=

 

new

 CPlayer

.

CState

(

)

;


        Player

.

States

[

(

uint

)

CPlayer

.

STATE

.

RUN

]

.

Animation

 

=

 Player

.

LoadAnimation

(

"../model/dynobj/boy/run.ani"

)

;


        Player

.

States

[

(

uint

)

CPlayer

.

STATE

.

RUN

]

.

Sound

 

=

 GlobalVar

.

SoundSystem

.

LoadSound

(

"Run"

, 

"../sound/run.wav"

)

;


        Player

.

States

[

(

uint

)

CPlayer

.

STATE

.

RUN

]

.

Sound

.

SetLoops

(

-

1

)

;


 
        Player

.

States

[

(

uint

)

CPlayer

.

STATE

.

JUMP

]

 

=

 

new

 CPlayer

.

CState

(

)

;


        Player

.

States

[

(

uint

)

CPlayer

.

STATE

.

JUMP

]

.

Animation

 

=

 Player

.

LoadAnimation

(

"../model/dynobj/boy/jump.ani"

)

;


        Player

.

States

[

(

uint

)

CPlayer

.

STATE

.

JUMP

]

.

Sound

 

=

 GlobalVar

.

SoundSystem

.

LoadSound

(

"Jump"

, 

"../sound/jump.wav"

)

;


 
        Player

.

States

[

(

uint

)

CPlayer

.

STATE

.

ATTACK1

]

 

=

 

new

 CPlayer

.

CState

(

)

;


        Player

.

States

[

(

uint

)

CPlayer

.

STATE

.

ATTACK1

]

.

Animation

 

=

 Player

.

LoadAnimation

(

"../model/dynobj/boy/attack1.ani"

)

;


        Player

.

States

[

(

uint

)

CPlayer

.

STATE

.

ATTACK1

]

.

Sound

 

=

 GlobalVar

.

SoundSystem

.

LoadSound

(

"Attack1"

, 

"../sound/attack1.wav"

)

;


 
        BGLayers

[

0

]

 

=

 

new

 CBGLayer

(

)

;


        BGLayers

[

0

]

.

ObjectWidth

 

=

 

160

;


        BGLayers

[

0

]

.

ObjectHeight

 

=

 

320

;


        BGLayers

[

0

]

.

ObjectInterval

 

=

 

110

;


        BGLayers

[

0

]

.

PosY

 

=

 

320

-

35

-

320

;

    
        BGLayers

[

0

]

.

ScrollingSpeed

 

=

 

1

;


        BGLayers

[

0

]

.

CreateObjects

(

Scene, 

6

, 

"Tree"

, 

"../texture/scene/map00/tree_23.tga"

, CRenderableObj

.

DEPTHLAYERTYPE

.

DEPTH_LAYER_5

)

;


 
        BGLayers

[

1

]

 

=

 

new

 CBGLayer

(

)

;


        BGLayers

[

1

]

.

ObjectWidth

 

=

 

256

;


        BGLayers

[

1

]

.

ObjectHeight

 

=

 

256

;


        BGLayers

[

1

]

.

ObjectInterval

 

=

 

256

;


        BGLayers

[

1

]

.

PosY

 

=

 

320

-

35

-

256

;

    
        BGLayers

[

1

]

.

ScrollingSpeed

 

=

 2

.

5f

;


        BGLayers

[

1

]

.

CreateObjects

(

Scene, 

3

, 

"Tree2"

, 

"../texture/scene/map00/tree_01.tga"

, CRenderableObj

.

DEPTHLAYERTYPE

.

DEPTH_LAYER_4

)

;


 
        BGLayers

[

2

]

 

=

 

new

 CBGLayer

(

)

;


        BGLayers

[

2

]

.

ObjectWidth

 

=

 

128

;


        BGLayers

[

2

]

.

ObjectHeight

 

=

 

64

;


        BGLayers

[

2

]

.

ObjectInterval

 

=

 

110

;


        BGLayers

[

2

]

.

PosY

 

=

 

320

 

-

 

22

 

-

 

64

;


        BGLayers

[

2

]

.

ScrollingSpeed

 

=

 6

.

0f

;


        BGLayers

[

2

]

.

CreateObjects

(

Scene, 

6

, 

"Bush"

, 

"../texture/scene/map00/bush_08.tga"

, CRenderableObj

.

DEPTHLAYERTYPE

.

DEPTH_LAYER_3

)

;


 
        BGLayers

[

3

]

 

=

 

new

 CBGLayer

(

)

;


        BGLayers

[

3

]

.

ObjectWidth

 

=

 

64

;


        BGLayers

[

3

]

.

ObjectHeight

 

=

 

64

;


        BGLayers

[

3

]

.

ObjectInterval

 

=

 

64

;


        BGLayers

[

3

]

.

PosY

 

=

 

320

 

-

 

40

;


        BGLayers

[

3

]

.

ScrollingSpeed

 

=

 6

.

0f

;


        BGLayers

[

3

]

.

CreateObjects

(

Scene, 

9

, 

"GroundTile"

, 

"../texture/scene/map00/ground.tga"

, CRenderableObj

.

DEPTHLAYERTYPE

.

DEPTH_LAYER_2

)

;

           
 
        BGM 

=

 GlobalVar

.

SoundSystem

.

LoadSound

(

"BGM"

, 

"../sound/BGM.wav"

)

;


        BGM

.

SetLoops

(

-

1

)

;


 
        Scene

.

SetRenderMode

(

CScene

.

RENDERMODE

.

RENDER_SIMPLE

)

;

            
        Scene

.

SetSortMode

(

CScene

.

SORTMODE

.

SORT_BY_DEPTH_LAYER

)

;


        Scene

.

Setup

(

)

;


    

}


    

//----------------------------------------------


    

//  說明:   


    

//----------------------------------------------


    

new

 

public

 

void

 OnInit

(

)


    

{


        GlobalVar

.

SystemMouse

 

=

 

(

CMouse

)

(

GlobalVar

.

InputSystem

.

FindDevice

(

"System Mouse"

)

)

;


        GlobalVar

.

Engine

.

DeleteLastUIPage

(

)

;


        Player

.

SetState

(

CPlayer

.

STATE

.

RUN

)

;


 
        

for

 

(

int

 i 

=

 

0

;

 i 

&

lt

;

 BGLayers

.

GetLength

(

0

)

;

 i

++

)


        

{


            

for

 

(

int

 j

=

0

;

 j 

&

lt

;

 BGLayers

[

i

]

.

Objects

.

GetLength

(

0

)

;

 j

++

)

                
            

{


                BGLayers

[

i

]

.

Pos

[

j

]

 

=

 

(

int

)

(

j

*

BGLayers

[

i

]

.

ObjectInterval

)

;


            

}


        

}


 
        BGM

.

SetVolume

(

0

.

6f

)

;


        BGM

.

Play

(

)

;

            
    

}


    

//----------------------------------------------


    

//  說明:   


    

//----------------------------------------------


    

void

 AnimationLoop

(

)

      
    

{


        

if

 

(

GlobalVar

.

SystemMouse

.

ButtonStatus

(

CMouse

.

RBUTTON

)

 

&

amp

;&

amp

;

 Player

.

State

 

==

 CPlayer

.

STATE

.

RUN

)


        

{


            Player

.

SetState

(

CPlayer

.

STATE

.

JUMP

)

;

                
        

}

    
 
        

if

 

(

GlobalVar

.

SystemMouse

.

ButtonStatus

(

CMouse

.

LBUTTON

)

 

&

amp

;&

amp

;

 Player

.

State

 

==

 CPlayer

.

STATE

.

RUN

)


        

{


            Player

.

SetState

(

CPlayer

.

STATE

.

ATTACK1

)

;

                
        

}


 
        

if

 

(

Player

.

State

 

!=

 CPlayer

.

STATE

.

RUN

)


        

{


            

if

 

(

Player

.

IsCurrentAnimationStopped

(

)

)


            

{


                Player

.

SetState

(

CPlayer

.

STATE

.

RUN

)

;

                
            

}


        

}


    

}


    

//----------------------------------------------


    

//  說明:   


    

//----------------------------------------------


    

new

 

public

 

void

 OnLoop

(

float

 step

)


    

{


        GlobalVar

.

SystemMouse

.

Poll

(

)

;


 
        

if

 

(

GlobalVar

.

GameConsoleSystem

.

IsRunning

(

)

)


        

{


            GameConsoleIsRunning 

=

 

true

;


            Player

.

States

[

(

int

)

Player

.

State

]

.

Sound

.

Pause

(

)

;


        

}


        

else


        

{


            AnimationLoop

(

)

;


 
            

if

 

(

GameConsoleIsRunning

)


            

{


                

if

 

(

!

Player

.

States

[

(

int

)

Player

.

State

]

.

Sound

.

IsPlaying

(

)

)


                

{


                    Player

.

States

[

(

int

)

Player

.

State

]

.

Sound

.

Play

(

)

;


                

}


                GameConsoleIsRunning 

=

 

false

;


            

}


 
            

if

 

(

Player

.

State

 

==

 CPlayer

.

STATE

.

RUN

 

||

 Player

.

State

 

==

 CPlayer

.

STATE

.

JUMP

)


            

{


                BackgroundUV

[

0

]

.

x

 

+=

 

(

step 

*

 0

.

0003f

)

;


                BackgroundUV

[

1

]

.

x

 

+=

 

(

step 

*

 0

.

0003f

)

;


                Scene

.

SetBackgroundTextureUVOffset

(

BackgroundUV

[

0

]

.

x

, BackgroundUV

[

0

]

.

y

, BackgroundUV

[

1

]

.

x

, BackgroundUV

[

1

]

.

y

)

;


 
                

for

 

(

int

 i 

=

 

0

;

 i 

&

lt

;

 BGLayers

.

GetLength

(

0

)

;

 i

++

)


                

{


                    

for

 

(

int

 j 

=

 

0

;

 j 

&

lt

;

 BGLayers

[

i

]

.

Objects

.

GetLength

(

0

)

;

 j

++

)


                    

{


                        BGLayers

[

i

]

.

Pos

[

j

]

 

-=

 

(

BGLayers

[

i

]

.

ScrollingSpeed

 

*

 step

)

;


                        

if

 

(

BGLayers

[

i

]

.

Pos

[

j

]

 

&

lt

;

 

-

BGLayers

[

i

]

.

ObjectWidth

)


                            BGLayers

[

i

]

.

Pos

[

j

]

 

+=

 

(

BGLayers

[

i

]

.

Objects

.

GetLength

(

0

)

 

*

 BGLayers

[

i

]

.

ObjectInterval

)

;


 
                        CVector3 Pos 

=

 

new

 CVector3

(

BGLayers

[

i

]

.

Pos

[

j

]

, BGLayers

[

i

]

.

PosY

, 

0

)

;


                        BGLayers

[

i

]

.

Objects

[

j

]

.

SetPosition

(

Pos

)

;


                        BGLayers

[

i

]

.

Objects

[

j

]

.

UpdateTransform

(

)

;


                    

}


                

}


            

}


        

}


    

}


    

//----------------------------------------------


    

//  說明:   


    

//----------------------------------------------


    

new

 

public

 

void

 OnRender

(

)


    

{


        GlobalVar

.

Engine

.

Render

(

)

;

            
    

}


    

//----------------------------------------------


    

//  說明:   


    

//----------------------------------------------


    

new

 

public

 

void

 OnQuit

(

)


    

{


        

base

.

OnQuit

(

)

;


    

}




}
Lua Script
1
2
3
4
5
6
7
8
9
10
11
12
13
14
15
16
17
18
19
20
21
22
23
24
25
26
27
28
29
30
31
32
33
34
35
36
37
38
39
40
41
42
43
44
45
46
47
48
49
50
51
52
53
54
55
56
57
58
59
60
61
62
63
64
65
66
67
68
69
70
71
72
73
74
75
76
77
78
79
80
81
82
83
84
85
86
87
88
89
90
91
92
93
94
95
96
97
98
99
100
101
102
103
104
105
106
107
108
109
110
111
112
113
114
115
116
117
118
119
120
121
122
123
124
125
126
127
128
129
130
131
132
133
134
135
136
137
138
139
140
141
142
143
144
145
146
147
148
149
150
151
152
153
154
155
156
157
158
159
160
161
162
163
164
165
166
167
168
169
170
171
172
173
174
175
176
177
178
179
180
181
182
183
184
185
186
187
188
189
190
191
192
193
194
195
196
197
198
199
200
201
202
203
204
205
206
207
208
209


Player  

=

 

{

DynObj 

=

 

0

, State 

=

 

0

, States 

=

 

{

}

}


 
Player.STATE 

=

 

{

}


Player.STATE.RUN     

=

 

0


Player.STATE.JUMP    

=

 

1


Player.STATE.ATTACK1 

=

 

2


 
Scene 

=

 

nil


BGLayer 

=

 

{

}


BackgroundUV 

=

 

{

u0 

=

 

0.0

, v0 

=

 

0.0

, u1 

=

 -

0.51

, v1 

=

 

0.0

}


BGM 

=

 

nil


GameConsoleIsRunning 

=

 

false


 


------------------------------------------------




--  說明:   




------------------------------------------------


Player.SetState 

=

 

function

 

(

state

)

 
    CSound_Cast

(

Player.States

[

Player.State

]

.Sound

)

:Stop

(

)


 
    CDynamicObj_Cast

(

Player.DynObj

)

:SetCurrentAnimation

(

Player.States

[

state

]

.Animation

)


    CSound_Cast

(

Player.States

[

state

]

.Sound

)

:Play

(

)

    
    Player.State 

=

 state 


end




------------------------------------------------




--  說明:   




------------------------------------------------




function

 BGLayer_Create 

(

scene, layer, n, name, filename, depthlayer

)

 
    BGLayer

[

layer

]

.NumObjects 

=

 n
    

for

 i

=

0

,BGLayer

[

layer

]

.NumObjects-

1

 

do


        DynamicObj 

=

 CDynamicObj_Cast

(

scene:CreateDynamicEntity

(

)

)


        DynamicObj:CreateSprite

(

name, filename, BGLayer

[

layer

]

.ObjectWidth, BGLayer

[

layer

]

.ObjectHeight

)

        
        DynamicObj:UpdateTransform

(

)


        DynamicObj:SetDepthLayer

(

depthlayer

)


        scene:AddDynamicObj

(

GetObjectPointer

(

DynamicObj

)

)

  
        BGLayer

[

layer

]

[

i

]

 

=

 

{

}

        
        BGLayer

[

layer

]

[

i

]

.DynObj 

=

 GetObjectPointer

(

DynamicObj

)


        BGLayer

[

layer

]

[

i

]

.Pos 

=

 i

*

BGLayer

[

layer

]

.ObjectWidth
    

end

    


end




------------------------------------------------




--  說明:   




------------------------------------------------


CScrollingGamePage.OnCreate 

=

 

function

 

(

)

 
    CSampleScriptGame:ComputeScreenRatio

(

)

  
 
    Scene 

=

 CScene_Cast

(

CSceneSystem:AddScene

(

)

)


    Scene:SetName

(

L

"Scrolling Game Scene"

)

  
 
    Camera 

=

 CCamera_Cast

(

Scene:CreateCamera

(

)

)


    Camera:Create

(

)


    Scene:SetCurrentCamera

(

GetObjectPointer

(

Camera

)

)


    CameraContainer 

=

 CCameraContainer_Cast

(

Camera:GetContainer

(

)

)


    CameraContainer:SetPosition

(

CVector3

(

10

, 

10

, -

35

)

)


    CameraContainer:LookAt

(

10

, 

10

, 

0

)


    CameraContainer:UpdateProjectionMatrix

(


        CGraphicsSystem:GetBackbufferWidth

(

)

/


        CGraphicsSystem:GetBackbufferHeight

(

)

)


    CameraContainer:UpdateViewMatrix

(

)

       
 
    Scene:LoadBackgroundTexture

(

L

"../texture/scene/map00/background0.tga"

)


    Scene:SetBackgroundTextureUVOffset

(

BackgroundUV.u0, BackgroundUV.v0, BackgroundUV.u1, BackgroundUV.v1

)

 
 
    DynamicObj 

=

 CDynamicObj_Cast

(

Scene:CreateDynamicEntity

(

)

)


    DynamicObj:CreateModel

(

L

"Player"

, L

"../model/dynobj/boy/boy.mdl"

)

    
    DynamicObj:SetDepthLayer

(

CRenderableObj.DEPTHLAYERTYPE.DEPTH_LAYER_3

)


    DynamicObj:Yaw

(

-

90.0

, 

1

)

        
    Scene:AddDynamicObj

(

GetObjectPointer

(

DynamicObj

)

)

    
 
    Player.States

[

Player.STATE.RUN

]

 

=

 

{

}


    Player.States

[

Player.STATE.RUN

]

.Animation 

=

 DynamicObj:LoadAnimation

(

L

"../model/dynobj/boy/run.ani"

)


    Player.States

[

Player.STATE.RUN

]

.Sound 

=

 CSoundSystem:LoadSound

(

L

"Run"

, L

"../sound/run.wav"

)


    CSound_Cast

(

Player.States

[

Player.STATE.RUN

]

.Sound

)

:SetLoops

(

-

1

)


    Player.DynObj 

=

 GetObjectPointer

(

DynamicObj

)


 
    Player.States

[

Player.STATE.JUMP

]

 

=

 

{

}


    Player.States

[

Player.STATE.JUMP

]

.Animation 

=

 DynamicObj:LoadAnimation

(

L

"../model/dynobj/boy/jump.ani"

)


    Player.States

[

Player.STATE.JUMP

]

.Sound 

=

 CSoundSystem:LoadSound

(

L

"Jump"

, L

"../sound/jump.wav"

)


 
    Player.States

[

Player.STATE.ATTACK1

]

 

=

 

{

}


    Player.States

[

Player.STATE.ATTACK1

]

.Animation 

=

 DynamicObj:LoadAnimation

(

L

"../model/dynobj/boy/attack1.ani"

)


    Player.States

[

Player.STATE.ATTACK1

]

.Sound 

=

 CSoundSystem:LoadSound

(

L

"Attack1"

, L

"../sound/attack1.wav"

)

      
 
    BGLayer

[

0

]

 

=

 

{

}


    BGLayer

[

0

]

.ObjectWidth 

=

 

160

    
    BGLayer

[

0

]

.ObjectHeight 

=

 

320

    
    BGLayer

[

0

]

.ObjectInterval 

=

 

110

    
    BGLayer

[

0

]

.PosY 

=

 

320

-

35

-

320

        
    BGLayer

[

0

]

.ScrollingSpeed 

=

 

1


    BGLayer_Create

(

Scene, 

0

, 

6

, L

"Tree"

, L

"../texture/scene/map00/tree_23.tga"

, CRenderableObj.DEPTHLAYERTYPE.DEPTH_LAYER_5

)


 
    BGLayer

[

1

]

 

=

 

{

}


    BGLayer

[

1

]

.ObjectWidth 

=

 

256


    BGLayer

[

1

]

.ObjectHeight 

=

 

256

    
    BGLayer

[

1

]

.ObjectInterval 

=

 

256

      
    BGLayer

[

1

]

.PosY 

=

 

320

-

35

-

256

          
    BGLayer

[

1

]

.ScrollingSpeed 

=

 

2.5

  
    BGLayer_Create

(

Scene, 

1

, 

3

, L

"Tree2"

, L

"../texture/scene/map00/tree_01.tga"

, CRenderableObj.DEPTHLAYERTYPE.DEPTH_LAYER_4

)

    
 
    BGLayer

[

2

]

 

=

 

{

}


    BGLayer

[

2

]

.ObjectWidth 

=

 

128

  
    BGLayer

[

2

]

.ObjectHeight 

=

 

64

  
    BGLayer

[

2

]

.ObjectInterval 

=

 

110

     
    BGLayer

[

2

]

.PosY 

=

 

320

-

22

-

64

     
    BGLayer

[

2

]

.ScrollingSpeed 

=

 

6


    BGLayer_Create

(

Scene, 

2

, 

6

, L

"Bush"

, L

"../texture/scene/map00/bush_08.tga"

, CRenderableObj.DEPTHLAYERTYPE.DEPTH_LAYER_1

)

        
 
    BGLayer

[

3

]

 

=

 

{

}


    BGLayer

[

3

]

.ObjectWidth 

=

 

64

 
    BGLayer

[

3

]

.ObjectHeight 

=

 

64

    
    BGLayer

[

3

]

.ObjectInterval 

=

 

64

 
    BGLayer

[

3

]

.PosY 

=

 

320

-

40

     
    BGLayer

[

3

]

.ScrollingSpeed 

=

 

6

  
    BGLayer_Create

(

Scene, 

3

, 

9

, L

"GroundTile"

, L

"../texture/scene/map00/ground.tga"

, CRenderableObj.DEPTHLAYERTYPE.DEPTH_LAYER_1

)

        
 
    BGM 

=

 

(

CSoundSystem:LoadSound

(

L

"BGM"

, L

"../sound/BGM.wav"

)

)


    CSound_Cast

(

BGM

)

:SetLoops

(

-

1

)


 
    Scene:SetRenderMode

(

CScene.RENDERMODE.RENDER_SIMPLE

)

    
    Scene:SetSortMode

(

CScene.SORTMODE.SORT_BY_DEPTH_LAYER

)

           
    Scene:Setup

(

)




end




------------------------------------------------




--  說明:   




------------------------------------------------


CScrollingGamePage.OnInit 

=

 

function

 

(

)

          
    CEngine:DeleteLastUIPage

(

)


    Player.SetState

(

Player.STATE.RUN

)


 
    

for

 i

=

0

,

3

 

do


        

for

 j

=

0

, BGLayer

[

i

]

.NumObjects-

1

 

do


            BGLayer

[

i

]

[

j

]

.Pos 

=

 j

*

BGLayer

[

i

]

.ObjectInterval
        

end


    

end

  
 
    CSound_Cast

(

BGM

)

:SetVolume

(

0.6

)


    CSound_Cast

(

BGM

)

:Play

(

)




end




------------------------------------------------




--  說明:   




------------------------------------------------


MouseDevice 

=

 CMouse_Cast

(

CInputSystem:FindDevice

(

L

"System Mouse"

)

)




------------------------------------------------




--  說明:   




------------------------------------------------


CScrollingGamePage.AnimationLoop 

=

 

function

 

(

)

          
    

if

 

(

MouseDevice:ButtonStatus

(

RBUTTON

)

 

==

 TRUE 

and

 Player.State 

==

 Player.STATE.RUN

)

 

then


        Player.SetState

(

Player.STATE.JUMP

)

        
    

end


 
    

if

 

(

MouseDevice:ButtonStatus

(

LBUTTON

)

 

==

 TRUE 

and

 Player.State 

==

 Player.STATE.RUN

)

 

then


        Player.SetState

(

Player.STATE.ATTACK1

)

        
    

end


 
    

if

 

(

Player.State ~

=

 Player.STATE.RUN

)

 

then


        

if

 

(

CDynamicObj_Cast

(

Player.DynObj

)

:IsCurrentAnimationStopped

(

)

 

==

 TRUE

)

 

then


            Player.SetState

(

Player.STATE.RUN

)

        
        

end


    

end

    


end




------------------------------------------------




--  說明:   




------------------------------------------------


CScrollingGamePage.OnLoop 

=

 

function

 

(

step

)

      
    MouseDevice:Poll

(

)


 
    

if

 

(

CGameConsoleSystem:IsRunning

(

)

 

==

 TRUE

)

 

then


        GameConsoleIsRunning 

=

 

true


        CSound_Cast

(

Player.States

[

Player.State

]

.Sound

)

:Pause

(

)


    

else


        CScrollingGamePage:AnimationLoop

(

)

    
 
        

if

 

(

GameConsoleIsRunning 

==

 

true

)

 

then


            

if

 

(

CSound_Cast

(

Player.States

[

Player.State

]

.Sound

)

:IsPlaying

(

)

 

==

 FALSE

)

 

then


                CSound_Cast

(

Player.States

[

Player.State

]

.Sound

)

:Play

(

)


            

end


            GameConsoleIsRunning 

=

 

false


        

end


 
        

if

 

(

Player.State 

==

 Player.STATE.RUN 

or

 Player.State 

==

 Player.STATE.JUMP

)

 

then

    
            BackgroundUV.u0 

=

 BackgroundUV.u0 + 

(

step 

*

 

0.0003

)


            BackgroundUV.u1 

=

 BackgroundUV.u1 + 

(

step 

*

 

0.0003

)


            Scene:SetBackgroundTextureUVOffset

(

BackgroundUV.u0, BackgroundUV.v0, BackgroundUV.u1, BackgroundUV.v1

)


 
            

for

 i

=

0

,

3

 

do


                

for

 j

=

0

, BGLayer

[

i

]

.NumObjects-

1

 

do


                    BGLayer

[

i

]

[

j

]

.Pos 

=

 BGLayer

[

i

]

[

j

]

.Pos - BGLayer

[

i

]

.ScrollingSpeed

*

step
                    

if

 

(

BGLayer

[

i

]

[

j

]

.Pos 

&

lt

;

 -BGLayer

[

i

]

.ObjectWidth

)

 

then


                        BGLayer

[

i

]

[

j

]

.Pos 

=

 BGLayer

[

i

]

[

j

]

.Pos + BGLayer

[

i

]

.NumObjects

*

BGLayer

[

i

]

.ObjectInterval 
                    

end


                    DynObj 

=

 CDynamicObj_Cast

(

BGLayer

[

i

]

[

j

]

.DynObj

)


                    DynObj:SetPosition

(

CVector3

(

BGLayer

[

i

]

[

j

]

.Pos, BGLayer

[

i

]

.PosY, 

0

)

)


                    DynObj:UpdateTransform

(

)


                

end


            

end

   
        

end


    

end




end




------------------------------------------------




--  說明:   




------------------------------------------------


CScrollingGamePage.OnRender 

=

 

function

 

(

)

           
    CEngine:Render

(

)




end




------------------------------------------------




--  說明:   




------------------------------------------------


CScrollingGamePage.OnQuit 

=

 

function

 

(

)

      
    CUIPage:OnQuit

(

)




end